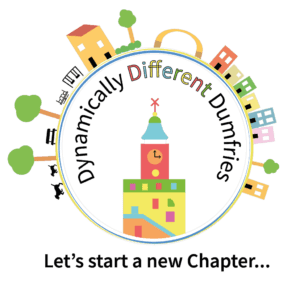 Newsletter #3
News from our introductory webinar and how to take part in up-coming workshops
Almost 100 people tuned in to yesterday's Dynamically Different Dumfries 'Welcome' introductory webinar via zoom and facebook, and hundreds more have since clicked on a recording of the session. You can do this too, in your own time, here: Welcome Webinar Recording. We're delighted with the level of interest and response to this 'dynamic' visioning and action planning project for Dumfries Town Centre.
There were fantastic presentations from Councillor Elaine Murray (Council Leader and local ward member), Leah Halliday (DPAG Chair), P6 Loreburn Primary School pupils Blythe Murray, Jessica Brown, Katie Brown, and Deputy Principal and Professor of Retail Studies at Stirling University Leigh Sparks. Julia Frost from PAS set the context explaining what it's all about, why it's happening now, and how to get more involved.
A few key points highlighted during the webinar:
Dynamically Different Dumfries is an inclusive and collaborative process. It is vital that as many aspects of the local community as possible get involved to help redefine and repurpose Dumfries Town Centre. Local communities know their needs better than anyone else – tell us! You have the skills and local resilience to make things happen in a dynamically different way.
The focus is on Dumfries Town Centre within the wider context of Dumfries as a whole – and on short/medium/long terms projects within an overall 10 year vision and delivery strategy.
Professor Leigh Sparks emphasised the opportunity for the community to build, together, a unique Town Centre, based on local 'stories' and its own sense of identity and not to dwell too much on nostalgia. This is about a different town centre: multi-purpose and multi-use – which creates the space for ideas to flow. It's about building on all town centre assets and possibilities to make Dumfries a truly regional capital.
The collaborative approach between Dumfries and Galloway Council, DPAG and the wider community will not only enrich the development of a coherent plan but also encourage investment and funding.
Testimonies from local school children also reminds us that the future of the town will be their future too and they are very excited about it. They have given this project a 'dynamic' distinctive identity and are proud.
Remember to sign up for workshops
The first workshop on 'Local Enterprise and Economy' is next week – Wednesday 10 February. Choose a 4-6pm or 7-9pm slot here: Dynamically Different Dumfries Events | Eventbrite
Places are limited so please sign up now. See you there to help create a more Dynamically Different Dumfries together. It's your town centre – make your voice heard!
Themed workshops will take place every Wednesday from 10 of February until 3 March, at the same times 4-6pm or 7-9pm. Sign up to these workshops here: Dynamically Different Dumfries Events | Eventbrite
Spread the word and share with your friends, neighbours and family!
 TO SIGN UP TO A WORKSHOP CLICK HERE
Don't worry if you can't take part in these online workshops as there are also other opportunities to get involved including:
– Visiting the Smithy on the High Street to see children's posters.
– Viewing the interactive project boards soon on the LoveDumfries website.
– Submitting comments by post, email or phone, to Julia Frost (julia@pas.co.uk, PAS, 11/2C Tweeddale Court, 14 High Street, EDINBURGH, EH1 1TE 07949 720983).
There will also be other ways to get involved when the easing of restrictions allows. Look out for updates through our newsletter here and press!
On Twitter follow the conversation @DumfriesAction and on Facebook (search for 'Dumfries Partnership Action Group') using the hashtag #DynamicDumfries
Sign-up to this regular newsletter here to receive the most recent news. Please forward on to your friends and colleagues! If someone has forwarded this email on to you and you'd like to subscribe to future updates, please click here.
Look out for updates on the 'Dynamic' section of the LoveDumfries website.
To help us gear up for the upcoming community workshops can you please let us know: What is your Vision for Dumfries Town Centre over the next 10 years? Click here to tell us your views.
For more project information, please contact PAS directly: Mathilde Delestre (mathilde@pas.org.uk) or Julia Frost (julia@pas.org.uk).