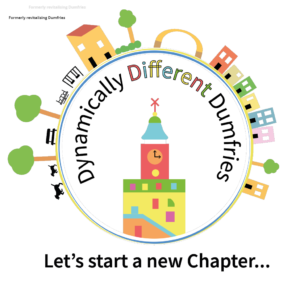 Newsletter #4
News from our first workshops and how to take part in up-coming workshops
Local Economy & Enterprise Workshops 10 February
Creative visioning and ambitious project ideas were flowing at the Local Economy & Enterprise digital workshops yesterday – the first in a series of four workshop themes for the Dynamically Different Dumfries project. Thanks to everyone who came along. There was great discussion and lots of enthusiasm for change. Below is a flavour of what was discussed.
For those not able to attend, here is a link to our project exhibition boards where you can not only comment on content and workshop themes but sign up to our remaining three workshops:
https://www.lovedumfries.co.uk/dynamically-different-dumfries-exhibition-posters/
Workshop summary replays now online
If you missed the workshops on Local Economy and Enterprise, we have now put online the end summary from each of the two workshops (about 25 minutes each). You can find them on the DPAG Facebook page:
Local Economy & Enterprise – Workshop 1 summary
Local Economy & Enterprise – Workshop 2 summary
Visioning
There is generally consensus on the need for a short, memorable, dynamic, welcoming, bold vision, that is not only unique to Dumfries but makes it clear that Dumfries embraces opportunity and a green economy. A vision that things are happening in this historic capital which embodies its sense of pride, culture, innovation and versatility. A vision that emphasises the sociability of Dumfries as a place and its potential as a creative and visitor hub.
Bright Project Ideas
Establishing a strong evening economy is a priority for all generations. Part and parcel of this is creating major events which draw more people in. A number of workshop groups focused on the potential to make Dumfries a regional entertainment capital, with music events, bars, venues, festivals etc – building upon and linking to a festivalised economy like the Big Burns Supper – with national and international appeal. Local ideas for using vacant and derelict buildings for local food and restaurant incubation hubs, partnering with the education sector, built further on ideas for a vibrant evening economy. Pop-up facilities are welcomed. The power of Burns, Bruce and Barrie to the Dumfries economy is strongly recognised.
Providing educational, creative and digital opportunities for young people to stay and work in the area is considered important, and locals are optimistic about spin off employment from the power/green economy sector. This ties into a desired theme of Dumfries as a Learning Town, and the opportunity for micro and incubator business start-ups and space for innovation hubs.
Connectivity, in its widest sense, is a priority for locals at a range of levels – physically, to help interaction, and also joined up at an awareness level to better promote what's going on in Dumfries. There is considered to be a need to identify and connect with visitors and the town as a whole to create experiences and activity for everyone, including families. A few groups emphasised that, economically, more should be made of the River Nith as an attraction and also as a green energy source.
There is generally a sense that the centre of town needs more activity – to be a hub, a magnet that people are drawn to. This requires a mixed offer that is both vibrant, interesting and unique. The historic Friars Vennel is noted as having potential for regeneration / marketing as a real-life 'Diagon Alley' experience – quirky independent businesses – to seed funding and collaboration/clusters elsewhere in the town. There is generally a desire for more visitor accommodation and visitor experiences.
Partnership Delivery
Locals are optimistic that a number of different organisations can work together to help make things happen – DPAG and the wider community themselves, Midsteeple Quarter, private business interests, South of Scotland Enterprise, Borderlands, Creative Scotland, Historic Environment Scotland, D&G Council, Scottish Government etc. There is a need for branding and market research to look at the potential local, national and international audience for project ideas and to work on connecting up with entertainment and business promoters.
Remember to sign up for upcoming workshops
We cannot write the Dynamically Different Dumfries Town Centre Vision and Action Plan without your views. The second workshop on 'Movement & Transport' is next week – Wednesday 17 February. Choose a 4-6pm or 7-9pm slot here: Dynamically Different Dumfries Events | Eventbrite
Places are limited so please sign up now. See you there to help create a more Dynamically Different Dumfries together. It's your town centre – make your voice heard!
Themed workshops will take place every Wednesday until 3 March, at the same times 4-6pm or 7-9pm. Sign up to these workshops here: Dynamically Different Dumfries Events | Eventbrite
Spread the word and share with your friends, neighbours and family!
If you can't take part in these online workshops as there are also other opportunities to get involved including:
– Visiting the Smithy on the High Street to see children's posters.
– Viewing the interactive exhibition boards on the LoveDumfries website. https://www.lovedumfries.co.uk/dynamically-different-dumfries-exhibition-posters/
– Submitting comments by post, email or phone, to Julia Frost julia@pas.org.uk, PAS, 11/2C Tweeddale Court, 14 High Street, EDINBURGH, EH1 1TE 07949 720983).
There will also be other ways to get involved when the easing of restrictions allows. Look out for updates through our newsletter here and press!
On Twitter follow the conversation @DumfriesAction and on Facebook (search for 'Dumfries Partnership Action Group') using the hashtag #DynamicDumfries
Sign-up to this regular newsletter here to receive the most recent news. Please forward on to your friends and colleagues! If someone has forwarded this email on to you and you'd like to subscribe to future updates, please click here.